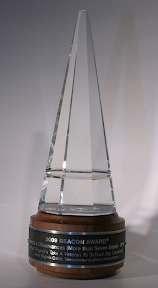 The "Take a Veteran to School Day" program — organized by the West Virginia Cable Telecommunications Association (WVCTA) — has earned a trophy in the 2009 Beacon Awards® competition.
Last year, the WVCTA — led by Suddenlink, Comcast and Time Warner Cable — partnered with the History™ channel's "Take a Veteran to School Day" initiative, to bring together veterans and high school students and educators in West Virginia. Twelve events were held throughout the state in the weeks surrounding Veterans Day 2008.
U.S. Senator Jay Rockefeller launched the project at Robert C. Byrd High School in Clarksburg on November 10, 2008. More than 4,000 students and educators learned about the importance of veterans in their communities; 19 veterans were cataloged for the Library of Congress' Veterans History Project; and over 60 veterans participated in the events.
This year, thirteen West Virginia high schools will participate in the program between today and Nov. 19, and more veterans' stories will be recorded.
Sponsored by the Association of Cable Communicators (ACC), the national Beacon Awards competition recognizes excellence in communications and public affairs throughout the cable industry and is celebrating its twentieth anniversary this year.